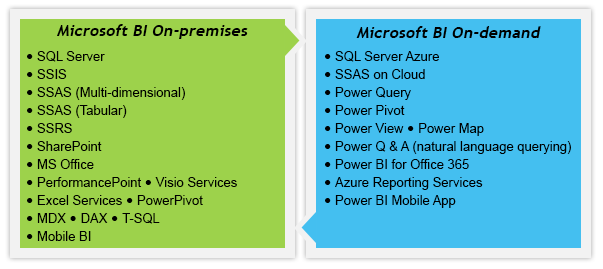 Business Intelligence (BI) Development Studio is designed to develop data analysis and BI or business intelligence solutions using Microsoft SQL's server analysis, reporting and integration services. It is was based on the development environment of Microsoft Visual Studio, but was customized with SQL server extensions that are services-specific, including controls, projects, and tools, for reports, OLAP cubes, data mining structure, and ETL data flows.
Summary

Supporters of Microsoft BI laud it for tightly integrating data storage, processing, presentation, and manipulation. Many experts also like it for its cost effectiveness, as all the necessary tools are already included with the purchase of Microsoft SharePoint, Office, and SQL Server. However, critics found the 'power view' tool to be inferior, and Office 365 to have size limitations. A company that requires a high performance, full-featured platform for data analytics and storage can rely on the Microsoft BI stack. That said, organizations that are using another RDBMS system (because of applications like Oracle EBS or SAP) may find it a bit challenging to integrate the Microsoft BI stack.
Pros of Microsoft BI
·

One stop solution – There is no need to purchase an RDBMS from one provider, presentation tools from another vendor, and data processing tools from yet another vendor because the complete application stack is already provided by Microsoft.
·

High performance - Enjoy a high quality, mature data management solution with a lot of performance monitoring options. The newest Power BI tools have been much improved with stability and usability features.
Recommendation
The Microsoft BI stack is one of the most well-rounded, comprehensive, and robust data management systems. Used correctly, it can help companies make data-driven decisions intelligently.